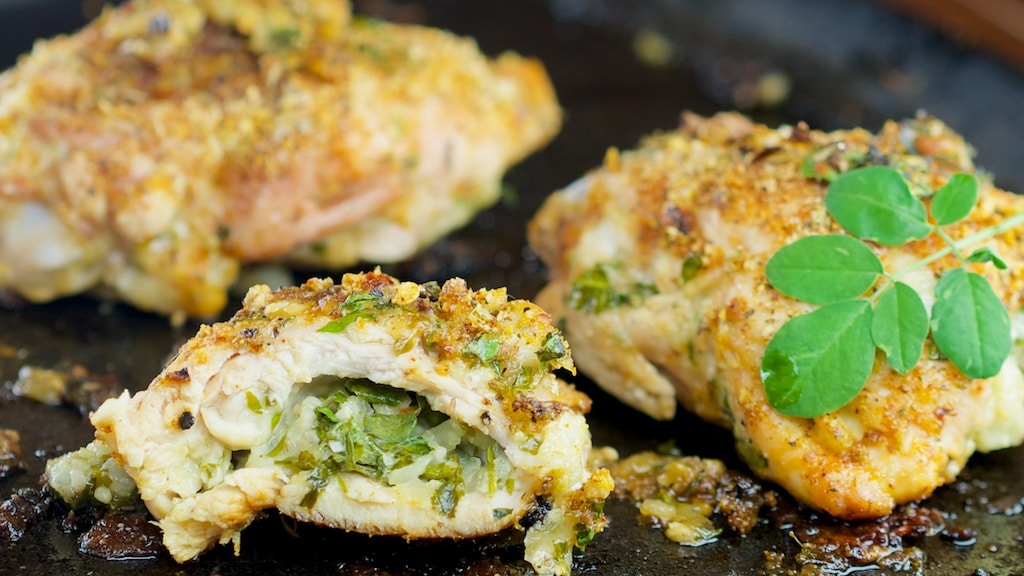 Moringa Stuffed Chicken: Cajun and PepperJack
Moringa Stuffed Chicken will "spice your mouth" as my girls would say.  The Cajun and PepperJack deliver an amazing but enjoyable bite.  The garlic, onion, and Moringa accompany the cheese inside the chicken before being baked to perfection, making this a deliciously moist entree that you are sure to make again and again!
This is a simple dish that can be prepared relatively quickly with minimal ingredients but loads of flavor.  The almond flour replaces standard bread crumbs and provides a lightly nutty flavor in addition to a gentle protein boost.
If you do not have a favorite Cajun seasoning, this is the recipe we use.  It can easily be prepared ahead of time, you likely have many of the ingredients already in your spice cabinet.
As always, adjust the seasoning to your preference and Moringa Stuffed Chicken will not disappoint! Simply pair this dish with a fresh salad that includes fresh Moringa, of course, or a roasted vegetable and savor the flavor!  Are you in need of a  delicately flavored appetizer or a dessert that's delicious and free of processed sugar?  Top off an amazing meal with homemade Moringa Truffles.
Moringa is so versatile, it can be eaten in one serving and one dish or enjoyed in increments throughout each course of your meal!
No one will even know if you introduced an amazing new green into their diet!
Let us know if you try this and how you make it work for you!  We hope you will find it as enjoyable as we did!
3

bone-in chicken thighs

2

ounces

pepper-jack cheese

shredded; or substitute cheese preference

1

cup

fresh Moringa leaves

packed and chopped

2

tsp

garlic

minced

2

Tbsp

onion

chopped

2

Tbsp

cajun seasoning

1

Tbsp

almond flour

substitute bread crumbs

salt

to taste

black pepper

to taste

additional cayenne

if desired
Preheat oven to 350 F. If available heat Cast Iron skillet/baking sheet in oven.

Begin preparing chicken by trimming fat.

Rinse chicken and pat dry to remove excess moisture which promotes seasoning adherence.

Locate bone and make a slice about 1/4 inch above bone. This will create a pocket for stuffing.

In small/medium bowl, mix fresh Moringa leaves, shredded cheese, onions, and garlic. Further chop if desired. Salt and Pepper and cayenne per preference.

Divide and stuff evenly among chicken pockets. Use bakers twine or toothpicks to secure cavity closure.

In small bowl, mix cajun seasoning, salt, pepper, and almond meal.

Sprinkle or pat seasoning mixture onto both sides of chicken breasts.

Place seam-side down on prepared baking sheet/heated cast iron for 35-40 minutes or until chicken is golden brown and cooked through. (Adjust baking time as needed per servings.)

If any stuffing or cheese is remaining, may sprinkle on top about 5-10 minutes before removing from the oven.