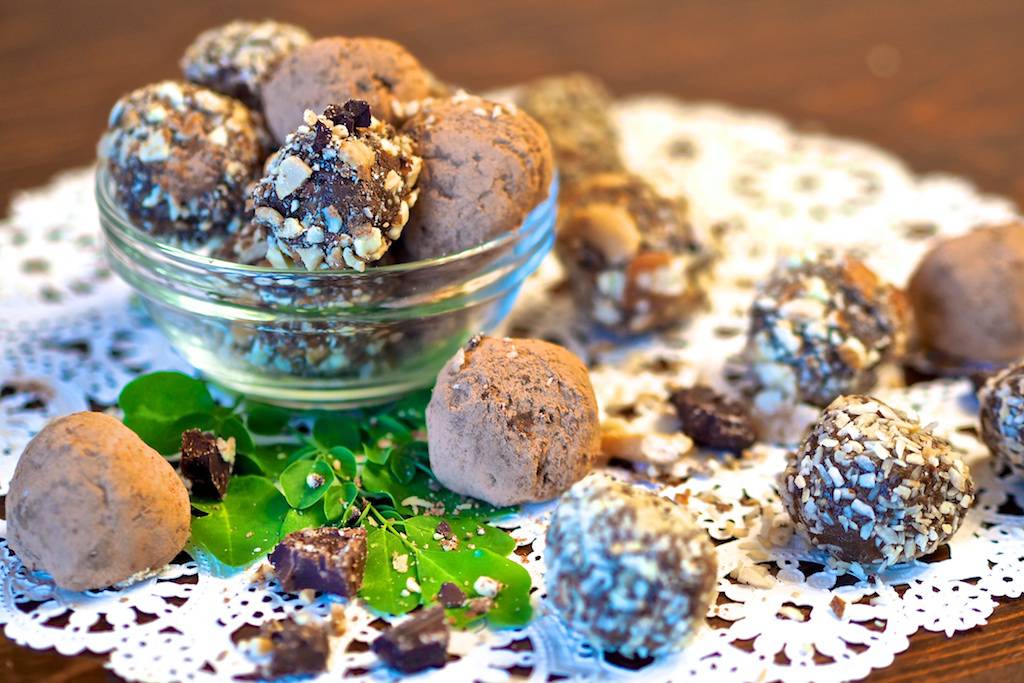 Moringa Truffles: Guilt-free Chocolate Truffles
All things in moderation, right? Well, almost! When it comes to these raw Moringa truffles, go ahead and indulge in delightful, chocolaty goodness. These are a wonderful alternative to all the empty calorie desserts on the market.
Fully enjoy eating your own homemade Moringa truffles, knowing they are full of healthy calories, vitamins, minerals, and anti-oxidants to benefit your body!
These truffles offer a grown-up taste that even the kids will enjoy! Our 3, 4, and 5 year old girls helped us finish off the whole batch within a day!
For more information about Moringa, check out: Moringa benefits or watch this great 10 minute Moringa documentary.
Feel free to share this recipe on your own website. We just ask that you rewrite it in your own words and add a link back to this page! Thanks and enjoy!
Recipe adapted from "Just Putzing around the Kitchen"

Combine nuts and medjool dates in food processor. Pulse until smooth sticky consistency. *If nuts are frozen can warm in oven to speed up the oils being released.

Add in vanilla, salt, cacao powder, and Moringa powder. (Optional: increase Cacao powder to 1/3 cup or experiment with a bit of expresso powder to enhance your chocolate flavor. )

While mixing, add coconut oil and maple syrup gradually to taste and desired sticky dough-like consistency. (We found it helpful to to mix the filling in smaller increments to evenly combine. )

Form into 18-20 one inch balls.

Roll balls in desired coating.

If not serving immediately, store in airtight container in refrigerator. To prolong shelf-life, you may store in freezer.