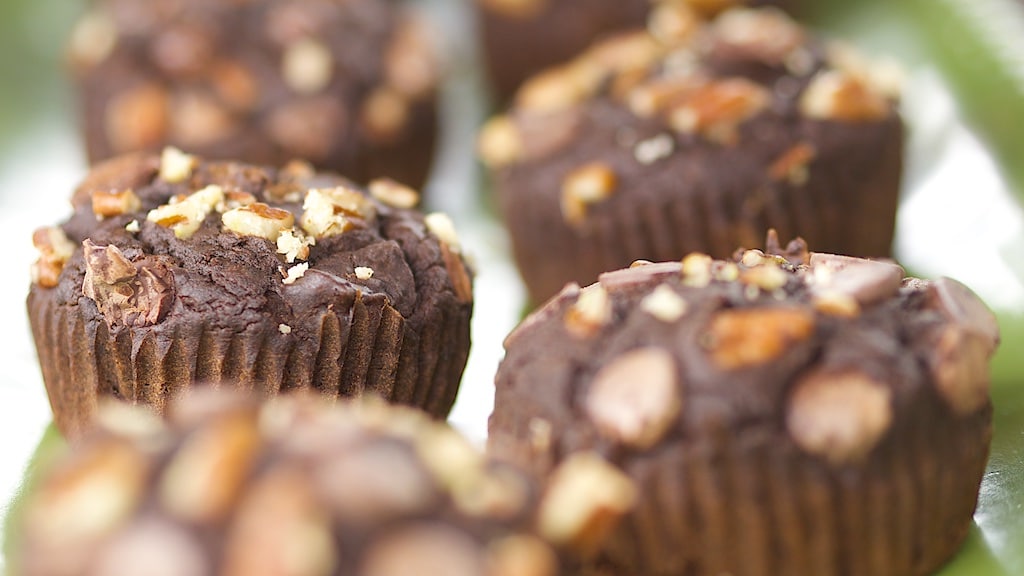 Peanut Butter Lava Moringa Blackbean Brownies
What's your favorite brownie texture?  Have you ever tried Blackbean Brownies or do you generally prefer you beans with rice? Peanut Butter Lava Moringa Blackbean Brownies were born from an attempt to find a not only acceptable but a happy mouth-pleasing Moringa dessert that could be enjoyed gluten free.
Blackbean brownies offer a terrific grain-free alternative to the American favorite by replacing processed white flour with pureed blackbeans.  These brownies are moist, fudgy and literally oozing with peanut butter and chocolate when served slightly warm. I don't know that I would call them healthy as Peanut Butter Lava Moringa Blackbean Brownies are after all still a dessert…but they are definitely a healthier option. Moringa serves to enhance the nutritional profile of this recipe which is already boasting of high fiber, high protein, minimal (possibly no) processed sugar and uncompromised taste!
This recipe makes Moringa the invisible super hero that provides a wonderful treat that people of all ages will enjoy.
Who doesn't love a little peanut butter fudgy goodness now and then? Peanut Butter Lava Moringa Blackbean Brownies are a great alternative to the sugar crash, empty calorie brownies that usually tempt the sweet tooth.  Set aside your rice and put your black beans where your dessert is….trust me, the beans are not even detectable?
Eat well and ease the conscious! I won't tell if you don't tell. Boost your fiber, your protein, and your daily Moringa intake!
Adapted from the minimalist baker

1 3/4

cups

black beans (cooked)

rinsed and drained

1/4

cup

coconut oil/butter

or a combo

1/2

cup

cacao powder

1

Tbsp

Moringa powder

1/4

tsp

pink Himalayan salt

to taste

1

tsp

vanilla extract

1/2

cup

pure maple syrup

2

Tbsp

strong coffee

1

tsp

baking powder

2

large

eggs

or egg substititue

12

bite-size

dark chocolate peanut butter cups

I use Trader Joe's

mini chocolate chips

sprinkling
Preheat oven to 350 F. Thoroughly rinse and drain black beans and set aside. Mix about 2 Tbsp hot water with 1 tsp instant coffee and set aside. Line (12) standard size muffin pan.

Place beans in high power blender or food processor and pulse until smooth--stopping as needed to scrape the sides.

Add remaining ingredients with the exception of eggs, baking powder, peanut butter/chocolate. Puree about 3 minutes or until texture is smooth. Scrape sides on occasion to be sure everything is evenly incorporated.

Add 2 eggs and baking powder. Pulse until combined.

Divide batter evenly into the muffin pan; **Set-aside about 1/2 cup.

Place a dark chocolate peanut butter cup in the center of the muffin. Apply gentle pressure but not so much that the peanut butter cup sinks to the bottom of the tin/liner.

Top peanut butter/chocolate with remaining batter and smooth if necessary. Sprinkle with mini chocolate chips or chocolate bits.

Bake in preheated oven until edges start to pull away from the sides of the pan about 22-24 minutes.

Allow to cool in pan. The brownies will have a "fudgy" texture. Serve alone or with ice cream.

Store at room temperature or in refrigerator to prolong shelf-life.
DIY: Dark Chocolate Peanut Butter Cups should be able tot be replace with about 4 tbsp of peanut butter and 2-3 tbsp of chopped chocolate. Mix and divide in small scoops between the 12 muffin tins.  Top with remaining batter per recipe and sprinkle with chocolate bits.
Additional option.  If you prefer no peanut butter, Just stir 1/3 - 1/2 cup of mini chocolate chips or chopped chocolate bits into the batter and divide evenly into 12 lined muffin pans.