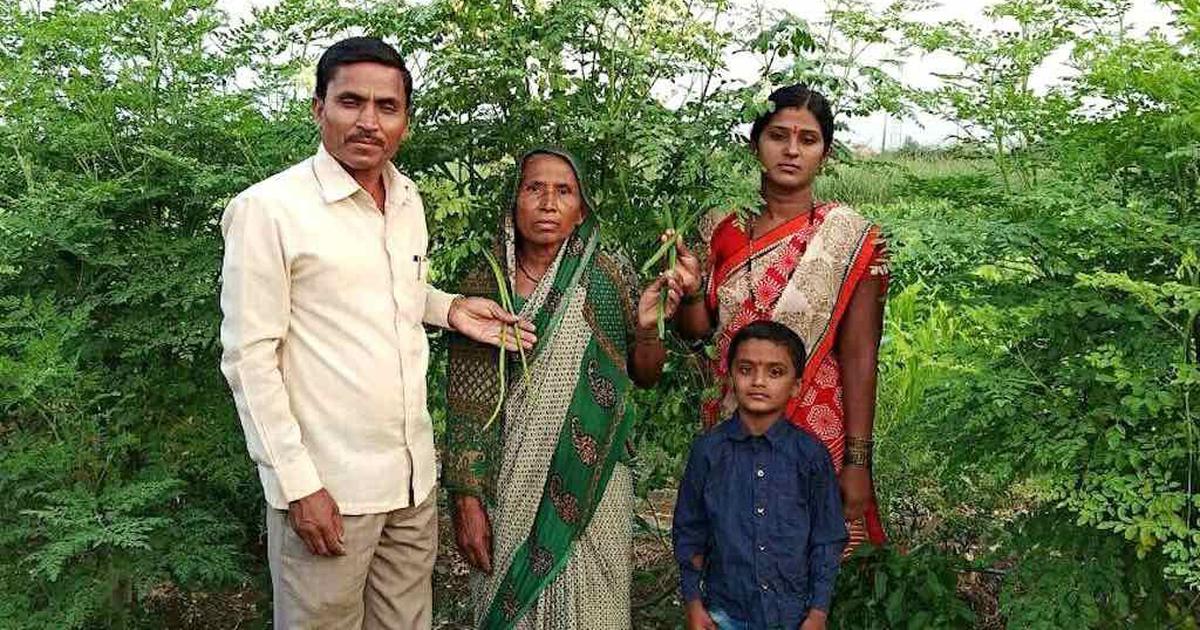 Small-Scale Farmers Prosper with Moringa
Moringa, a drought tolerant tree, is allowing many small-scale farmers in India to prosper. In drought-prone areas such as Maharashtra's Solapur district, Moringa is an ideal crop.  Some farmers are able to gross Rs 4 lakhs per acre growing Moringa and selling the drumsticks (seedpods). This is equivalent to about 6,000 USD / Acre!  Even in Maharashtra which is one of the largest, wealthiest and most developed states in India the per capita income is only $1,660 USD. This gives farmers who are interested in growing Moringa an incredible opportunity and many are taking it thanks to the low investment costs, little irrigation required and the high productivity of Moringa trees.
We encourage all of our readers to plant their own Moringa tree too! We have Moringa seeds for sale!
Its 8 am on a hot morning in May and Bala Shivaji Patil's four-acre farm in Uplai Khurd village of Maharashtra's Solapur district is already teeming with visitors. The 30-year-old dropped out of high school to take up farming and is now known as lakhpati shetkari, the rich farmer. He is showing his guests, many from distant places, around the farm, explaining how shewga (also known as moringa or drumstick) has brought prosperity to his six-member family. It has cost him little effort, investment and little irrigation. Krishiratan, Patil's plush two-storied house with a statue of a farmer standing atop a humble structure, is evidence of his success. "I began with two acres in 2011 and now have four acres under moringa, each acre fetching me around Rs 4 lakhs," said Patil.

For the full article visit:Drumstick cultivation boosts farm incomes in drought-prone Solapur

thumbnail courtesy of Village Square
Mark Reese founded A Healthy Leaf in 2015. He has grown thousands of Moringa trees and helped countless others grow, learn about, and experience Moringa for themselves. He holds a Bachelor's of Science Degree from Lake Superior State University and a Masters of Science from the University of Hawaii were he worked as an Associate Researcher. He has published in peer-reviewed journals and presented his work at the national conference level. Mark continues to enjoy learning first-hand as well as researching about Moringa so he can write about it and educate others.
Latest posts by Mark Reese (see all)