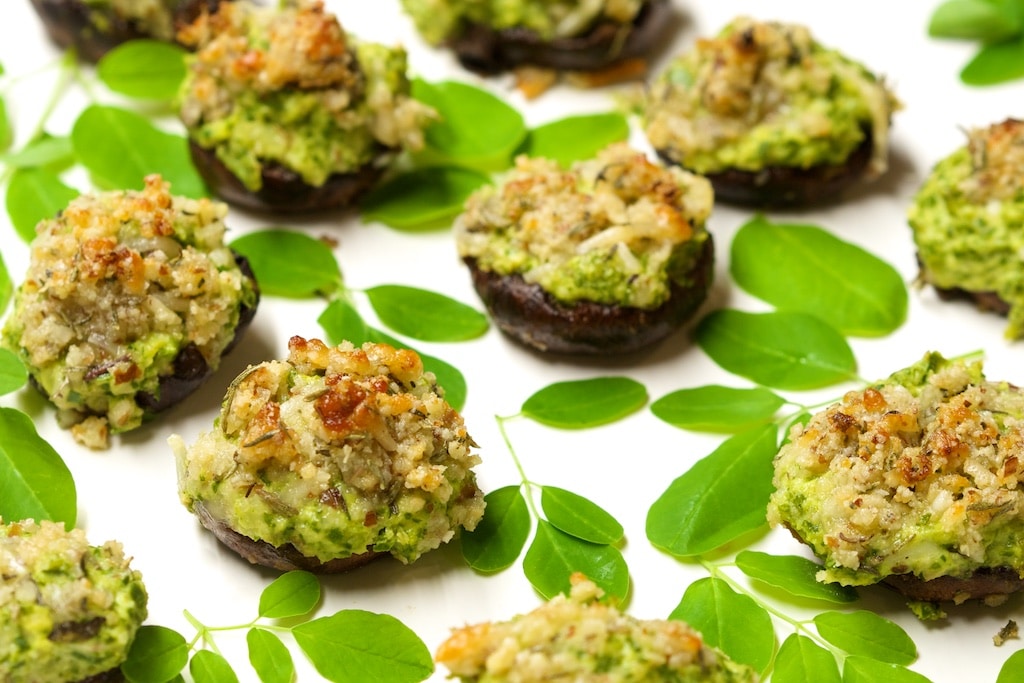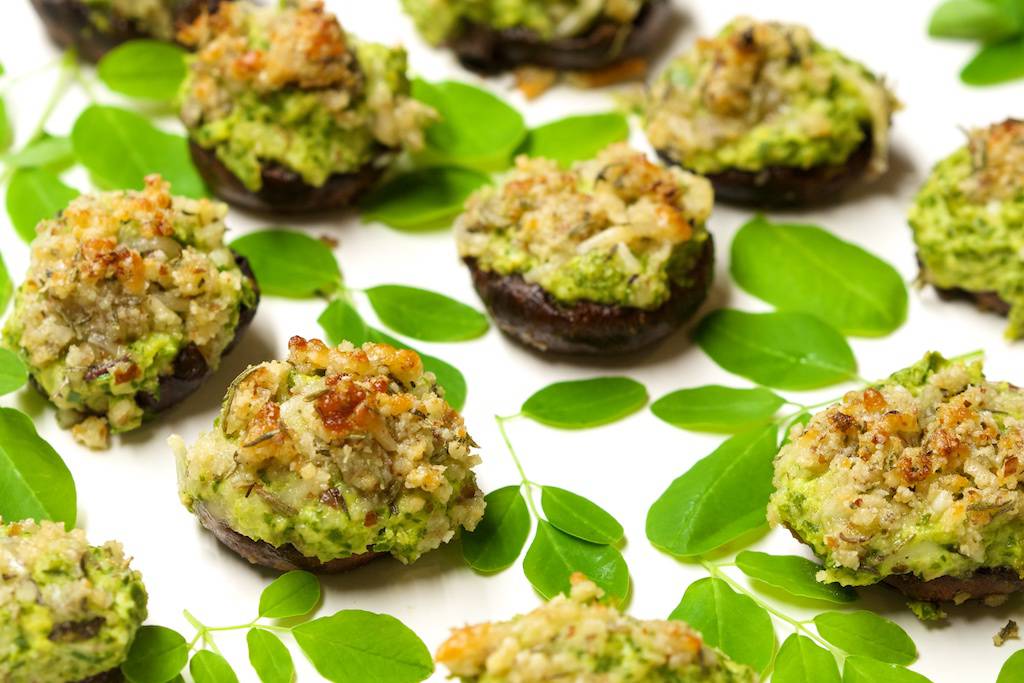 Moringa Stuffed Mushrooms
Moringa stuffed mushrooms brag an intense blend of flavors in every bite. We used 3.5 ounces of fresh Moringa in our stuffed mushrooms, but we guarantee that the Moringa leaf powder will make a terrific substitute for the filling. We used a mouth-watering blend of sour cream, cream cheese, and mozzarella with artichoke and fresh Moringa leaves. After preparing the mushrooms, we roasted them briefly to dry them. The cheesy vegetable goodness was dolloped on top and then sprinkled with a combination of almond flour, cheese, and spices. The stuffed mushrooms were then warmed and crisped in the oven–pure delight for the tastebuds! Everyone but the 3 year old was left asking for more! To us, this is a perfect blend of yumminess!
Be sure to fully remove the gills from the mushrooms in the preparation to enhance the crispness of your final product. We utilized a "4-year old" to remove the stems and a melon scoop to remove the gills. Since the mushrooms themselves require the most time in preparation, you may also want to try a larger mushroom such as the shiitake.
These Moringa stuffed mushrooms can be assembled ahead of time and then cooked just prior to serving. They seem to disappear when they are warm and crisp right out of the oven!
The Moringa stuffing itself can also be served as a dip or spread for crusty breads, crackers, or even vegetables.
This recipe will work well with fresh or dried Moringa. Regardless of your choice, we promise that when the last one disappears, it will leave someone craving more.
Adapted from Pop Sugars' Mushrooms Stuffed With Artichoke and Spinach Dip.
50

baby bella mushrooms

stemmed, gills removed with a melon scooper

1

Tbsp

garlic

finely minced; divided

2

Tbsp

olive oil

divided

salt

to taste

black pepper

to taste

3

ounces

cream cheese

softened

3

ounces

sour cream

possible substitute: greek yogurt or increase cream cheese

4

Tbsp

mozzarella cheese

shredded

1

tsp

onion

finely chopped

1.5

tsp

fresh thyme

divided

3.5

ounces

fresh Moringa leaves

chopped; substitute 3.5 Tbsp moringa powder

5

ounces

artichoke hearts

chopped; squeeze out excess liquid

4

Tbsp

almond flour

possible substitute panko

4

Tbsp

Parmigiano-Reggiano

freshly grated
Servings:
mini stuffed mushrooms
Combine 1 Tbsp olive oil and 2 tsp of minced garlic. (Save bowl and remaining garlic oil for later.)

Brush inside cap of prepared mushrooms with garlic and olive oil combination. Sprinkle to taste with salt and pepper.

Arrange mushrooms with oiled side up on a rimmed baking sheet. Bake about 6 minutes or until tender. Drain mushrooms or pat with paper towel if notable about of water still being released. The released liquid should be reduced if gills are properly removed.

Mix softened cream cheese, sour cream, mozzarella cheese, 1/2 tsp thyme. Once combined well, stir in the chopped Moringa leaves, onions, and artichoke hearts. Salt and Pepper to taste. (If available, use immersion blender to improve mixing process.)

In small bowl (can use dish from step two), add in remaining garlic, final Tbsp of olive oil, remaining 1 tsp thyme, 4 Tbsp of almond flour/meal, and 4 Tbsp of Parmigiano-Reggiano.

Divide Moringa/artichoke mixture evenly among mushroom caps. Sprinkle with almond flour mixture. Press crumb mixture lightly into filling if necessary.

Bake in preheated oven until filling is hot and crumbs are golden-brown, about 6-8 minutes. Serve immediately.