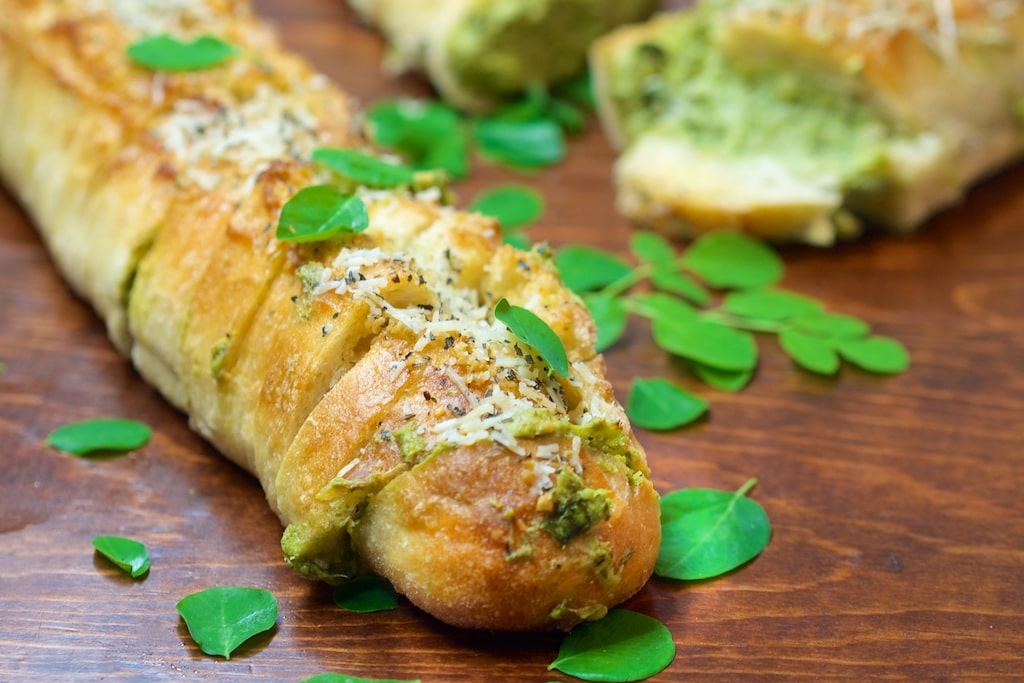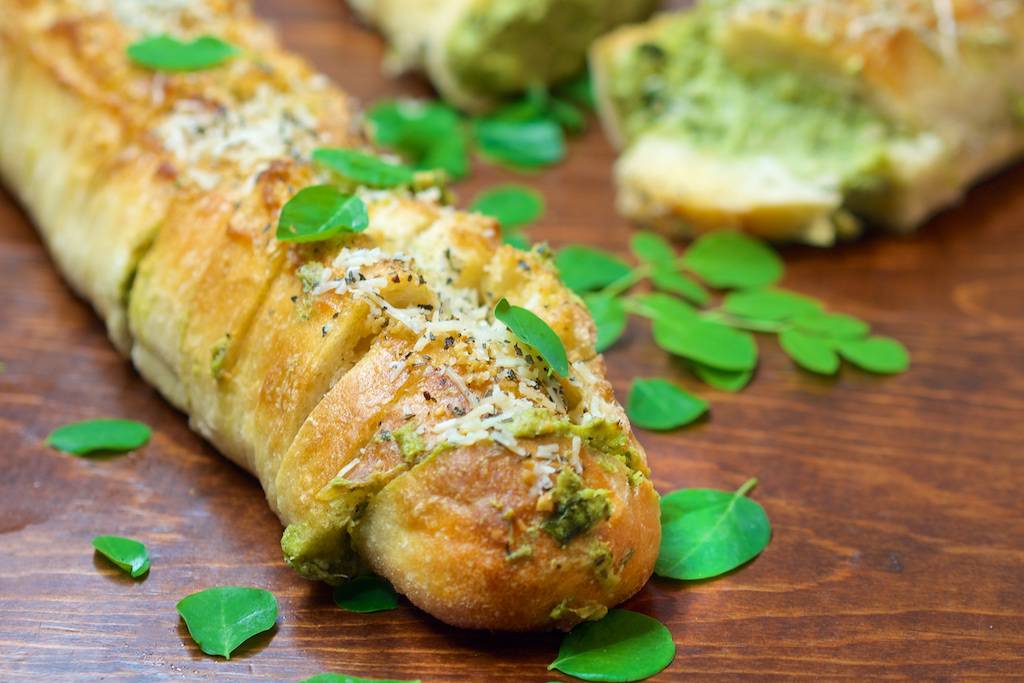 Moringa Stuffed Garlic Bread
Maybe it was being 9 months pregnant, but regardless, garlic and bread both captured my attention when we originally tried this recipe out. The combination of Moringa stuffed garlic bread was inevitable. In this dish, Moringa powder, artichokes, and basil are blended with a simple mix of spices and cheese and then packed into a baguette and warmed in the oven. Drizzled with garlic butter and oozing with cheesy flavor, this comfort food will not last long!
The preparation is simple. Choose a homemade or store bought loaf according to your preference. Use the blade of a long knife to hollow the center of the loaf.  A quick mix of vegetables, spices, and cheese is then used to fill the hollow of your baguette or loaf.
Realign your loaf on cooking pan of preference–we used our cast iron griddle. Slice into individual pieces; be careful to not slice completely through the bottom.  Trickle the garlic butter over the entire loaf allowing it to drip into the slices and over the side.
At the end of baking, top with parmesan and chopped basil or fresh Moringa leaves or a combination of the two. Serve warm to maximize deliciousness!
This Moringa stuffed garlic bread cannot brag of low calories; but there is still plenty of good nutritious benefits literally packed into this loaf!  Don't pass up this flavorful option to boost your Moringa intake!
We would love to hear if you tried this and any feedback you could offer.  Please add your experience to the comment section for this recipe.
Adapted from Tin Eats Cheese Garlic Crack Bread

1

baguette

1/2

Tbsp

olive oil

14

ounces

artichoke hearts

chopped and excess water removed

2

cups

fresh Moringa leaves

chopped; substitute 2 Tbsp dried Moringa leaves

2/3

cup

fresh basil leaves

chopped and divided or substitute 2-3 Tbsp dried Basil

8

ounces

cream cheese

softened

1.5

cups

mozzarella cheese

shredded

4

green onion

finely chopped

3

Tbsp

butter

melted

4

cloves

garlic

minced and divided

1/4

tsp

cayenne pepper

optional

1/4

tsp

Italian seasoning

optional

parmesan cheese

freshly grated for topping
Divide baguette into 4 equal pieces. Use a long knife to cut and remove the center of each of the four pieces. Remove loose bread; leave some bread along the edges. Set to the side.

Warm cream cheese and mozzarella on stove till combined.

Fold in finely chopped green onions, 1 tsp of minced garlic, salt and pepper to taste, artichoke hearts, basil, and Moringa. Use immersion blender as desired for consistency.

Stuff the baguette quarters with Moringa, basil, artichoke cheese mixture.

On cutting board, line up quarters appropriately to mimic original loaf. Slice into 1 inch think pieces.

Combine melted butter and minced Garlic and seasoning. Brush or slowly drizzle over stuffed baguette, allow some to seep in between slices.

Place in preheated oven for 15 minutes

Remove from oven and top with grated parmesan and fresh basil/Moringa.