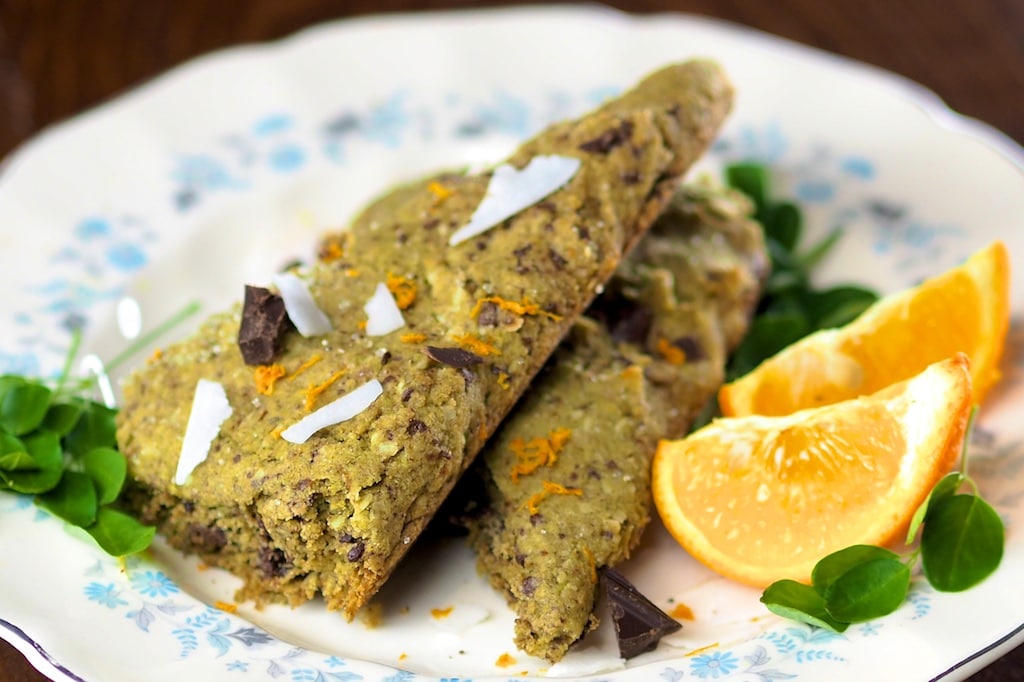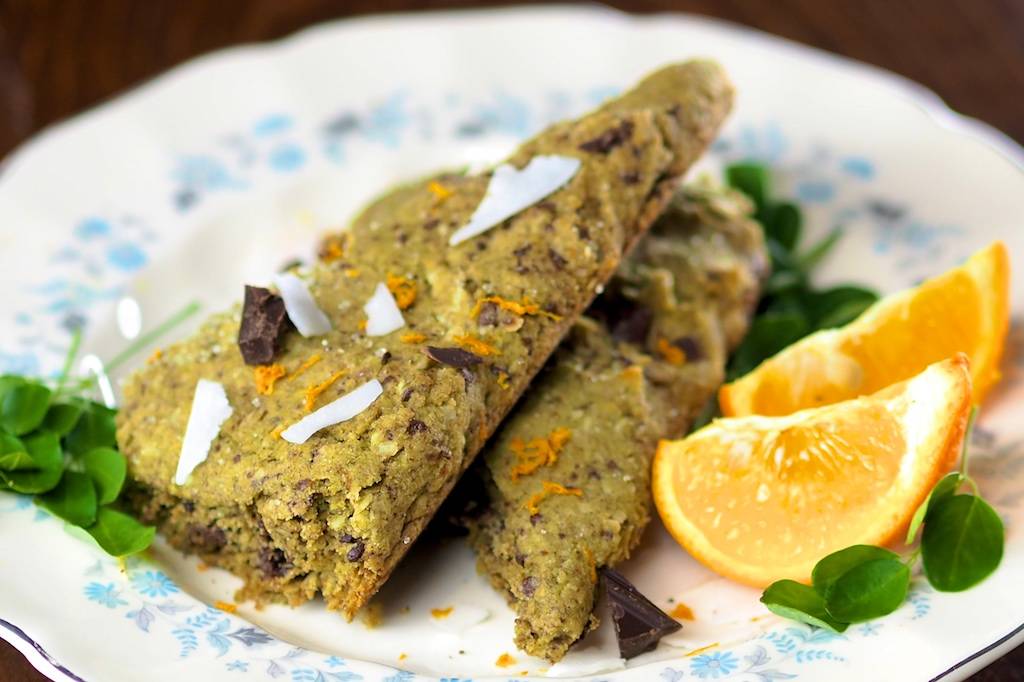 Moringa Scones with Tangerine, Coconut, and Chocolate Bits
Tea time Anyone?  Moringa Scones with tangerine, coconut, and chocolate bits add a delightful pick-me up to your morning or any time of day.  This recipe can be made gluten-free if that is your need or preference.  Half nut flour offers more than empty carbs and provides a filling snack or quick meal on the go.
The delicate hint of fresh from (our backyard) tangerines, light tropical hue of coconut shreds, and the irresistible deliciousness of chocolate bits all balance out the amazing goodness of Moringa whether you use the fresh leaves or the powdered leaves.
Take your Scones to the next level by making Moringa powder one of your base ingredients.  Even the crumbs won't be wasted!
And don't forget to try Moringa Tea. We absolutely love the pomegranate flavored version!
Inspired from a recipe in the Costco Magazine.

1.5

Tbsp

Moringa powder

<1

cup

all purpose flour

or a combination of whole wheat, spelt, or gluten free

1

cup

almond flour

or nut flour of preference

1/4

cup

raw sugar

or sweetener of choice

zest

2 tangerines

2

tsp

baking powder

1/2

tsp

baking soda

1/4

tsp

salt

5

Tbsp

butter

chilled and diced

1

large

egg

3

Tbsp

tangerine juice

1/2

tsp

vanilla

1/4

tsp

almond extract

1/4

cup

unsweetened coconut

finely shredded

1/4

cup

dark chocolate

finely chopped (up to 1/2 cup)
Place 1.5 Tbsp Moringa powder into 1 cup measuring dish. Fill the remainder with all purpose flour or a combination of diet preference.

Pour into medium mixing bowl, and add 1 cup of nut flour and sugar.

Incorporate baking powder, baking soda, salt, and zest.

Cut in chilled butter until mixture resembles coarse crumbs.

Stir in egg, citrus juice, vanilla extract, and almond extract until dry but moist dough forms.

Add in unsweetened coconut and dark chocolate. Combine well.

Press scone dough onto warmed cast iron pan or prepared pan of choice.

Pat into rectangle form. Score into 4 equal parts across the width (4 smaller rectangular forms). Continue to score each rectangle diagonally from corner to corner. (Final product should be subdivided into 8 right triangular servings)

Sprinkle with sugar or coconut for garnish and bake for 18-22 minutes or until edges are golden and barely firm.

Serve warm. Best when eaten on day of preparation. Store in airtight container if not eating immediately.