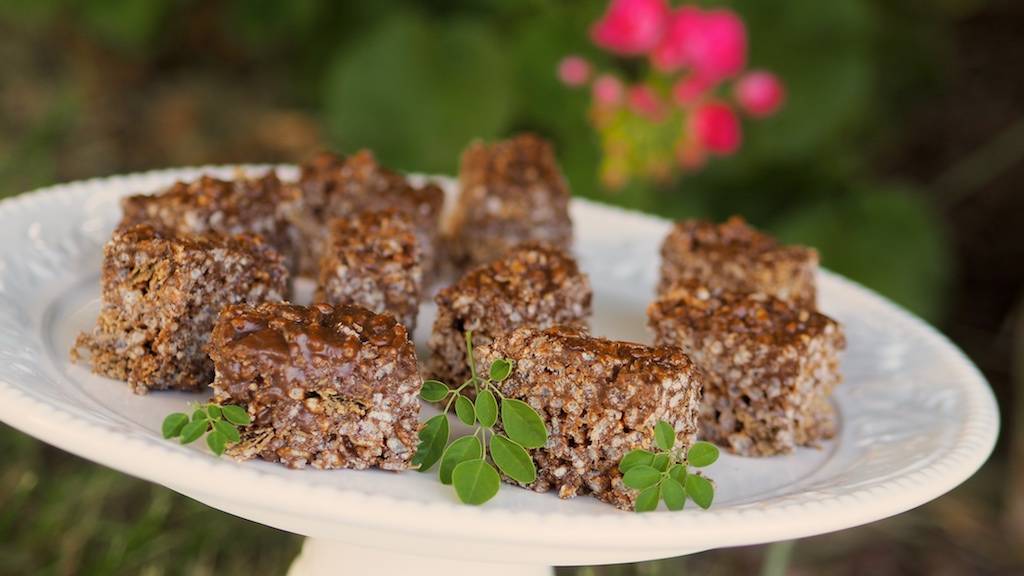 Moringa Chocolate Krispies
Moringa Chocolate Krispies are for those who enjoy a more traditional American diet and are seeking to incorporate the benefits of Moringa directly into  life with initially minor adjustments.
Moringa Chocolate Krispies deviate only slightly from the much-loved original rice krispie recipe.  Moringa chocolate Krispies also include peanut butter powder (which could be substituted with a bit of peanut butter), Moringa powder, and lots of chocolate!
FYI: There are recipes for homemade marshmallows that are actually beneficial to your body too!
If you are looking for ways to add Moringa into your diet or your kid's diet, check this recipe out. Go ahead, throw some greens in with dessert, most-likely only you will know!
Want more Moringa recipes? Check out some of our savory dishes.
Let us know in the comments below if you try Moringa Chocolate Krispies.

3

Tbsp

butter

40

large

marshmallows

1/2

cup

72% or > cacao dark Chocolate

or chocolate of preference

2

Tbsp

peanut butter powder

2

tsp

vanilla

1

Tbsp

Moringa powder

More to taste

5

cups

Gluten Free crisp rice cereal

1

cup

crisp rice cereal, broken pretzels, Wheat Chex

any combination
Prepare an 8x8 pan by lightly buttering the bottom and sides. Set aside.

Place butter in large pot on stove. Heat on low until melted.

Stir in peanut butter powder and chocolate. Continue stirring frequently. (You can include Moringa in this step for easier even incorporation or wait until pot is removed from heat--you are using low heat so there should be no nutrient loss.)

When mostly melted, add in marshmallows and continue stirring frequently over low heat.

Remove from heat, stir in vanilla and Moringa powder (if not previously added), and crisp rice cereal. Incorporate well. Add final cup of your choice. Consistency will seem dry initially; but as you stir, the moisture will distribute evenly to mix the perfect amount of crunch with "ooey" yumminess!

Heap into prepared 8x8 pan and press down. Use the back of a buttered spoon if needed to press firmly into pan. If there is extra chocolaty marshmallow in the bottom of the pot, distribute evenly over Moringa chocolate krispies. Flatten top.

Cut into 16 squares with a sharp knife. Another messier option is to roll into large balls. Be sure to butter your hands prior to shaping into balls. Enjoy!