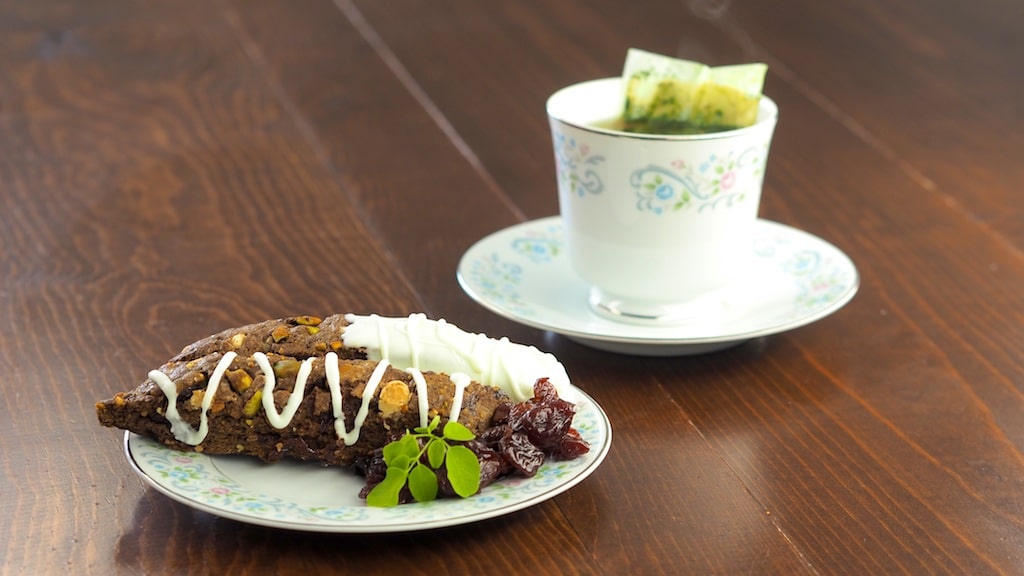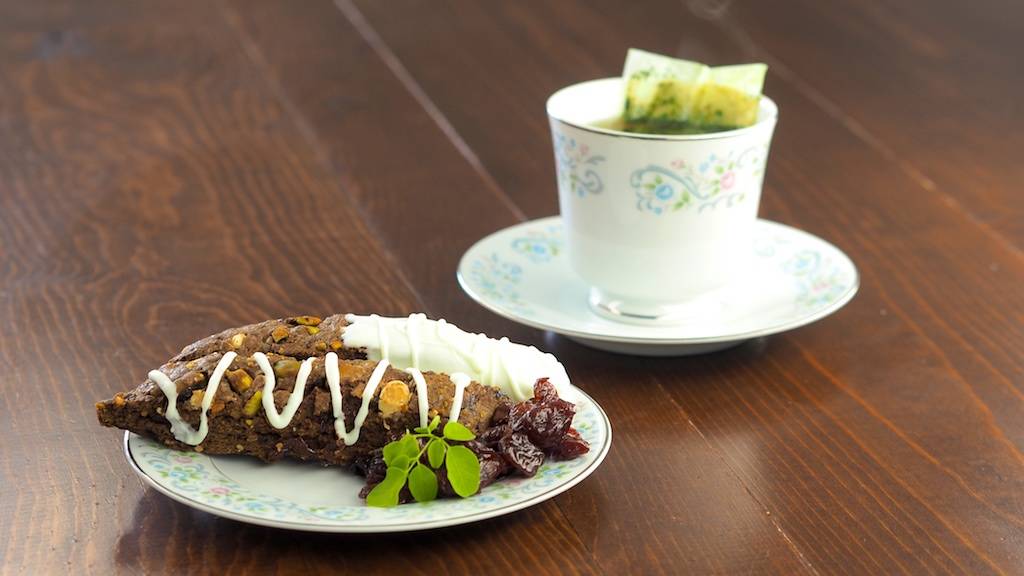 Moringa Chocolate Cherry Pistachio Biscotti
Moringa Chocolate Cherry Pistachio Biscotti is the perfect companion for a relaxing tea time or tantalizing brunch.
Cacao Powder,  Moringa powder, chopped pistachio, and fruit zest fuse into a twice baked wonder. Biscotti originated in Italy. It is known to be dry, crunchy, and maybe even a bit crumbly– ideal for dipping.  When in Italy, a traditional Almond Biscotti is often served as dessert accompanied by Vin Santo (a dessert wine); but here in Southern California, we prefer to savor our Moringa Chocolate Cherry Pistachio biscotti with steeped Moringa tea. It is quite delicious and combines the perfect amount of sweet and tart.
This Chocolate Biscotti  can be enjoyed alone or with any tea or latte preference.  If you do choose to pair your biscotti with plain Moringa or Moringa pomegranate tea, you are choosing double the good and an amazing yum!
How do you like to eat your Biscotti?  And what do you know about the amazing benefits of Moringa?
We'd love to hear your feedback below!

10

Tbsp

butter

softened to room temperature

1

cup

raw cane sugar

or sweetener of preference

3

eggs

1 1/2

tsp

vanilla extract

1/2

tsp

almond extract

2

zest of orange

2

zest of lemon

3 1/8

cup

all purpose flour

1/4

cup

cacao powder

2

Tbsp

Moringa powder

1

tsp

baking powder

1/2

tsp

pink Himalayan salt

1/4

cup

milk

1

cup

pistachios

roughly chopped

1/2

cup

dried cherries

roughly chopped

1/3

cup

chocolate

(optional) / additional for dipping /garnish
In large mixing bowl, mix butter until light and fluffy.

Add sugar and beat until incorporated.

Add eggs followed by 2 extracts and citrus zest (optional).

In separate mixing bowl, mix flour, baking powder, salt, cacao powder, and Moringa powder.

Combine wet and dry ingredients in large mixing bowl. Add Milk to dough-like consistency.

Stir in pistachios, dried cherries, and chocolate (if desired). Press together with hands if needed.

Turn onto parchment paper lined baking pan. Divide into 2 equal parts. Roll into 2 logs and press into about 1 inch depth.

Place into oven and bake 30-35 minutes. Remove from oven. With serrated knife, slice diagonally into about 1 inch width.

Separate the pieces slightly. Return to the oven about 10 minutes then reduce heat to 250F for an additional 10 minutes or until the edges no longer appear wet/shiny/moist.

Remove from oven and cool.

Optional: Dip or drizzle with chocolate of choice. Can sprinkle with bits of nuts or fruit.

Optional: Serve with Moringa tea.