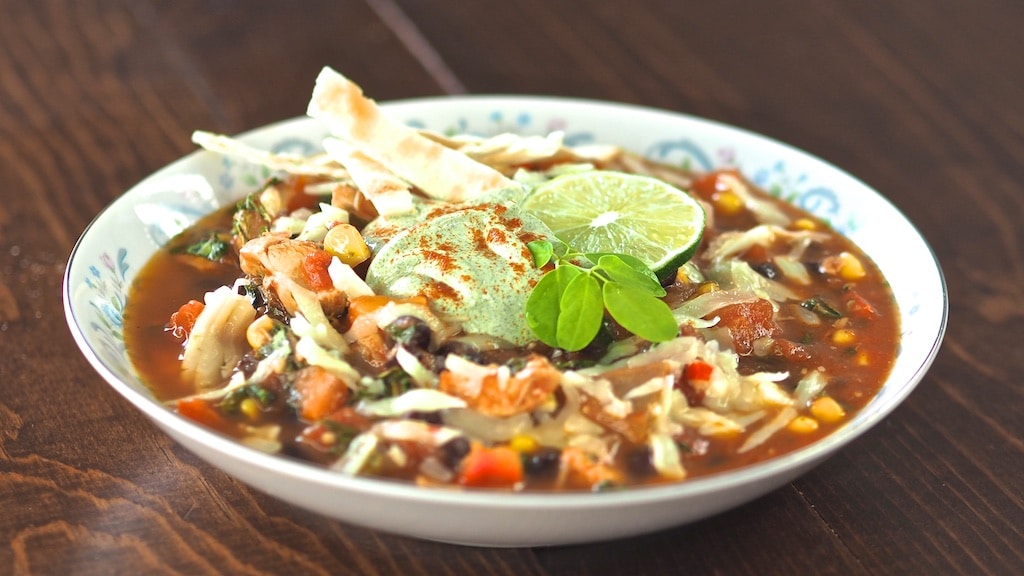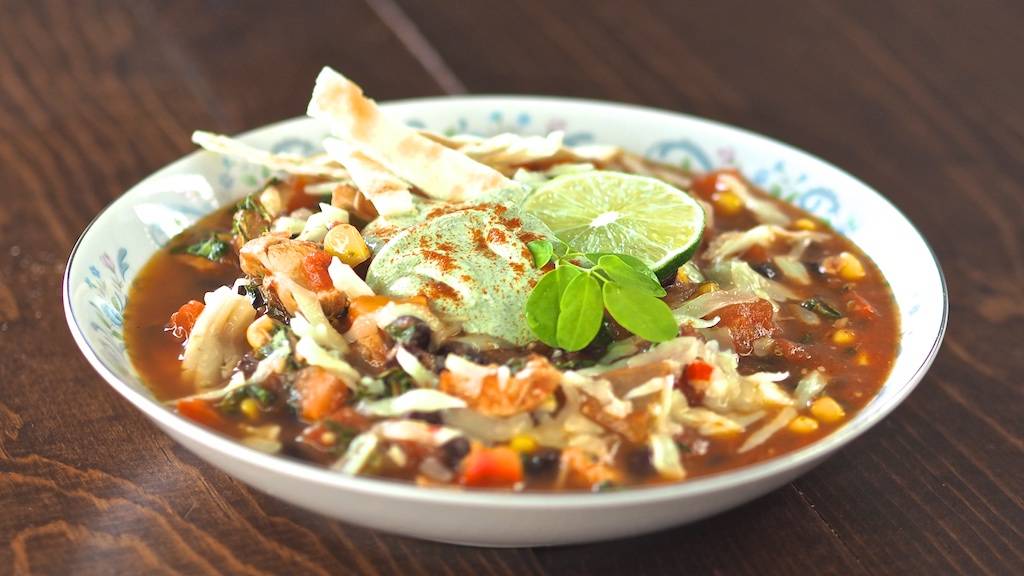 Moringa Chicken Tortilla Soup with Moringa Cream
Moringa Chicken Tortilla Soup is a hearty mouth-pleasing, body-nourishing dish that incorporates a beautiful palette of colors and a delicious array of flavors into an intensely satisfying meal.  When preparing Moringa Chicken Tortilla Soup, feel free to skip the sides dishes; instead, focus on the spectacular diversity available for toppings.  Whether you are "a little of everything" person or "a little of this or that", Moringa Chicken Tortilla soup is sure to please everyone!
Bone broth requires limited preparation and enhances the flavor and nutritional value of this recipe. Here is a terrific recipe for fire-roasted tomato soup (use the first step only if making as a substitute for diced tomatoes for the Chicken Tortilla soup recipe) that we enjoy.
Also, be sure to try our Moringa cream recipe (listed below). It is a terrific addition to an already mouth-watering dish. The cayenne adds a bit of a bite, the lime adds some zing, while the Moringa adds 92 nutrients! Stir the Moringa cream into the soup for a creamier texture and calmer flavor or put a dollup on top of the soup for nutritional and a visual appeal.
Make it a vegetarian dish; skip the chicken and use vegetable broth for your Moringa tortilla soup. Black beans and fresh Moringa still provide great protein. If desired, add vegan cheese or sour cream.  As always enjoy the nutrient dense array of wonderful vegetables.
If you would like, get your kids involved! There is chopping, rinsing, measuring, grating, shredding and stirring opportunities available depending on their skill level. While I do not think you will need much persuading with this particular recipe, many children will often naturally be more ambitious eaters when they can take ownership in what is being served. The Moringa cream recipe is so simple it may be a terrific opportunity for even little ones to feel very important and be very useful at the same time.  Moringa chicken tortilla soup requires a bit more preparation time up front but can easily be prepared ahead of time and frozen for unforeseen events or company.
We would like to think the end result will make any extra preparation time negligible when considering the health and beauty that will be adorning your dinner table!

2

Tbsp

olive oil

saute

1

onion

finely chopped

2

Tbsp

garlic

minced

2-3

jalapeno

finely chopped

7

cups

tomatoes diced or crushed

with juice/optional fire roasted

cumin

to taste

chili powder

to taste

pink Himalayan salt

to taste

black pepper

to taste

4

cups

bone broth

adjusting amount to preferred consistency

2

cups

corn

3.5

cups

black beans

rinsed thoroughly

2

red peppers

diced

1.5

cups

Chicken

more per preference

1

bunch

cilantro

chopped

2

cups

moringa

chopped /or to taste
1

cup

full fat sour cream

1

Tbsp

Moringa powder

or to taste

1-2

juice from lime

zest

lime

(optional)

sprinkle

cayenne pepper
Tortillas/ chips

Avocado

diced or sliced

cilantro

chopped

green onions

finely chopped

fresh Moringa leaves

stems removed and chopped

pepper-jack cheese

shredded (cheese of choice)

spritz of lime juice

black olives

sliced

additional jalepenos
Roast or Boil Chicken. Remove from bone and set aside. Prepare bone broth or use store-bought chicken broth.

If making your own fire roasted tomatoes, prepare ahead of time.

In large stock pot, heat olive oil to medium/high.

Saute minced garlic, diced onions, and jalapeños for several minutes.

Add tomatoes and chicken broth. Bring to a boil then reduce to simmer.

Add seasoning: cumin, chili powder, cayenne, salt and pepper to taste

Stir in corn, black beans, red peppers, and chicken. Simmer till warm.

Stir in cilantro, Moringa, and optional lime juice.

Grill tortillas and cut into strips

Serve warm with your preferred topping.
Simply whip all the ingredients together in a small bowl. Adjust to taste.

Dollop a top filled soup bowl or stir into cooling soup (if it's too hot, it gets a bit chunky in appearance) for a creamier texture.