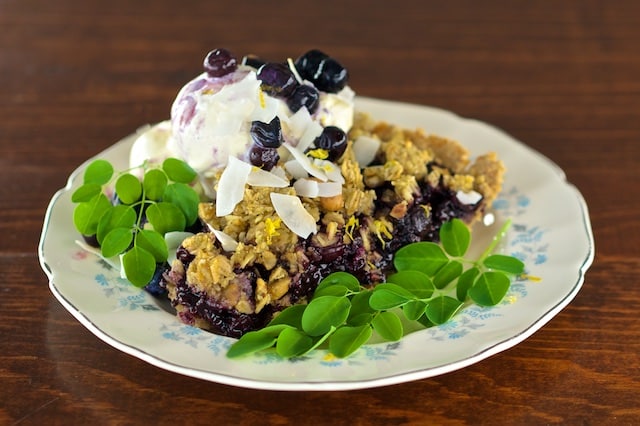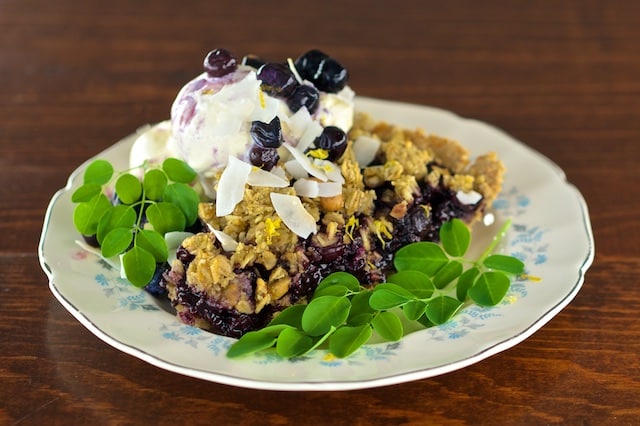 Moringa Blueberry Crumb Pie: A Fit Twist To A Classic Delight
Moringa blueberry crumb pie provides an exceptional balance of good nutrition in a classic pie setting.  It includes the benefits of Blueberries, or any berry combination you prefer with coconut oil,  a small boost of chia seeds, and a healthy dose of Moringa powder.  This particular recipe eliminates any processed sugar and instead substitutes a more natural maple syrup. As with most recipes, you can choose your favorite sweetener and adjust to taste.
If you choose to bake the included crust recipe, you eliminate the less than nutritious standard white processed flour–opting for a more blood sugar friendly protein packed nutty crust.
The optional crumb crisp is not overly sweet but does provide a finishing touch and a small amount more Moringa per serving.
All-in-all, this recipe has a nutty base filled with a lightly sweetened fresh filling.  It provides the comfort of pie while avoiding much of the less than beneficial ingredients.
For extra WOW~ top your Moringa blueberry crumb pie with your very own whipped cream or natural vanilla ice cream. You will have just created a killer combination!
With all these good ingredients, you don't have to think twice about occasionally serving a Moringa blueberry crumb pie for breakfast!
Enjoy!
Adapted from Healthy Blueberry Pie by Elena's Pantry and My whole food life,
Gluten Free Crust (or prepare preferred crust)
2

cups

nut flour

almond, cashew, pecan...

2

Tbsp

coconut oil

1

egg

1/4

tsp

salt
Moringa Blueberry Filling
5

cups

blueberries

1/3

cup

maple syrup

1/3

cup

water

1/2

lemon

juice

1.5

tsp

lemon zest

or to taste

1

tsp

cinnamon

4

Tbsp

chia seeds

2-4 Tbsp per preference

1/4

tsp

salt

1

Tbsp

arrowroot powder

2

Tbsp

Moringa powder
1/2

cup

rolled oats

1/4

cup

pecan halves

1/4

cup

almond flour

3

Tbsp

unsweetened shredded coconut

1/4

tsp

cinnamon

1/2

tsp

vanilla

3

Tbsp

coconut oil

melted

1/4

cup

maple syrup

1

tsp

Moringa powder

or to taste
Mix nut flour and salt. Add coconut oil and egg. (If high powered blender or food processor available, pulse until dough begins to form.)

Press dough into 9 inch pie dish and bake 10-15 minutes.

Combine blueberries, maple syrup, water, lemon juice, cinnamon, and salt in sauce pan. Bring to a boil; then reduce to simmer about 3-5 minutes.

Incorporate thoroughly chia seeds and arrowroot powder. Let stand 5 minutes to thicken.

Stir in powdered Moringa and lemon zest.

Pour Moringa blueberry filling into prepared pie crust.

Mix crisp topping ingredients together in medium bowl. Mixture should be moist with clumps. Drop over Moringa blueberry filling.

Bake for 25- 35 minutes or until the top is golden brown. Turn off the oven and continue to let it crisp inside. If not using the crumb topping, reduce baking time just to warm up filling. (Can serve warm or cold with whipped cream or ice cream).