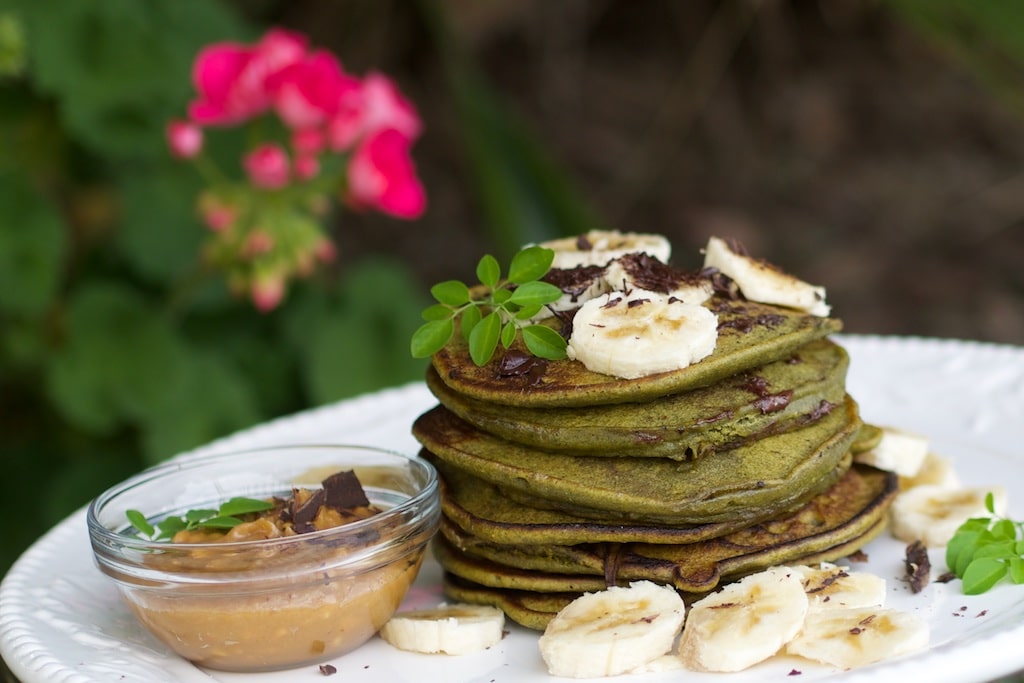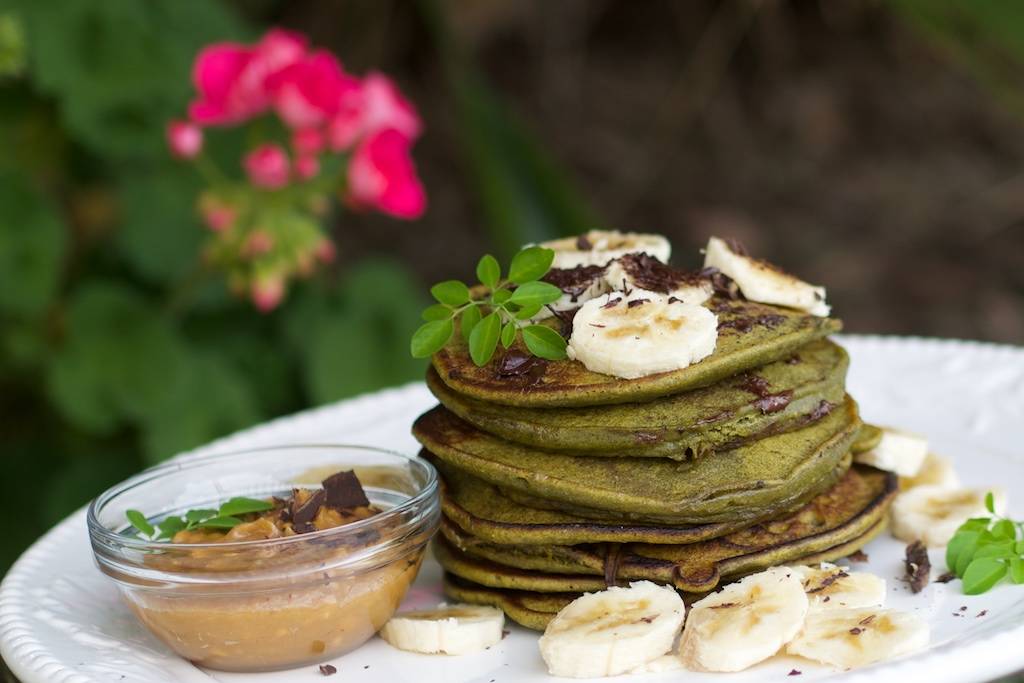 Moringa Banana Pancakes
The all-American Pancake recipe just got better.  Try out this Moringa Banana Pancake recipe!  The more ripe the banana, the better the flavor and more likely the added sweetener can be reduced to taste!  Sometimes our family removes the sugar  from the recipe, opting rather to utilize it in our toppings like "traditional maple syrup"!
If you have a high-powered blender handy, this recipe can be prepared in one dish which helps minimize clean-up! These are not light and fluffy Pancakes, but they are incredibly moist, filling, and delicious.  Mix a little peanut butter and maple syrup to make a nice sauce for topping and again boost your protein intake.
As expected, Moringa powder will give your pancakes a subtle green hew.  This serves as a great reminder  of the nutritious boost you are incorporating into your breakfast.
If you're looking for pancakes, don't settle for any pancakes…test the terrific taste of Moringa Banana Pancakes.
We are always looking for your feedback, so please come back and let us know your thoughts on Moringa Banana Pancakes.
Adapted form Williams Sonoma the Kid's Cookbook by Abigail Johnson Dodge.

1.5

ripe banana

3/4

cup

all purpose flour

10

Tbsp

whole wheat flour

2

Tbsp

Moringa powder

2

Tbsp

raw sugar

sweetener of choice to taste

1/2

tsp

salt

1 1/4

cup

kefir

can substitute milk of choice

1

tsp

vanilla

2

large

eggs

2 1/2

tsp

baking powder

butter
chocolate

chopped nuts of choice

additional bananas

maple syrup

(can combine with nut butter to make sauce)
If a high-powered blender is readily available, place first 8 ingredients in blender and pulse until combined.

Add in eggs and baking powder, pulse until just combined--do not over mix. Adjust consistency if necessary by adding additional kefir/milk. This recipe was made with kefir, which tends to be thicker than most milk. If using milk, consider adding only 1 cup at first and gradually add until batter is of your liking.
In medium bowl, mix flours, Moringa, sugar (if dry), baking powder, and salt.

In a small bowl, mash banana until mostly smooth.

Whisk in eggs with the banana.

Now to the banana mixture, add in kefer/milk and vanilla just until blended.

Fold wet batter into flour mixture. Do not over-mix. Batter may be thick and lumpy.
Heat cast iron griddle or pan over medium heat. Place butter or oil of choice into pan until melted/sizzling.

Pour/spoon batter in equal amounts onto hot griddle/pan. (Optional: drop in the batter a couple of chocolate bits or additional chopped bananas or nuts.)

Cook until bubbles/holes appear on upper surface of pancakes and are slightly puffed. Bottom should be lightly browned.

Flip with spatula and cook additional 1-2 minutes or until underside is golden. (Time varies with pan, temp, and size of pancake.)

Remove from griddle/pan with spatula. Place on serving dish and continue until batter has been used.

Serve pancakes hot (although left-overs can be refrigerated and warmed for use later). These can be eaten alone or paired with your choice of butter, maple syrup, sliced bananas, chocolate bits, chopped nuts, whipped cream, or maple nut sauce. Mix nut butter and maple syrup to consistency of your choice. Can substitute for syrup.