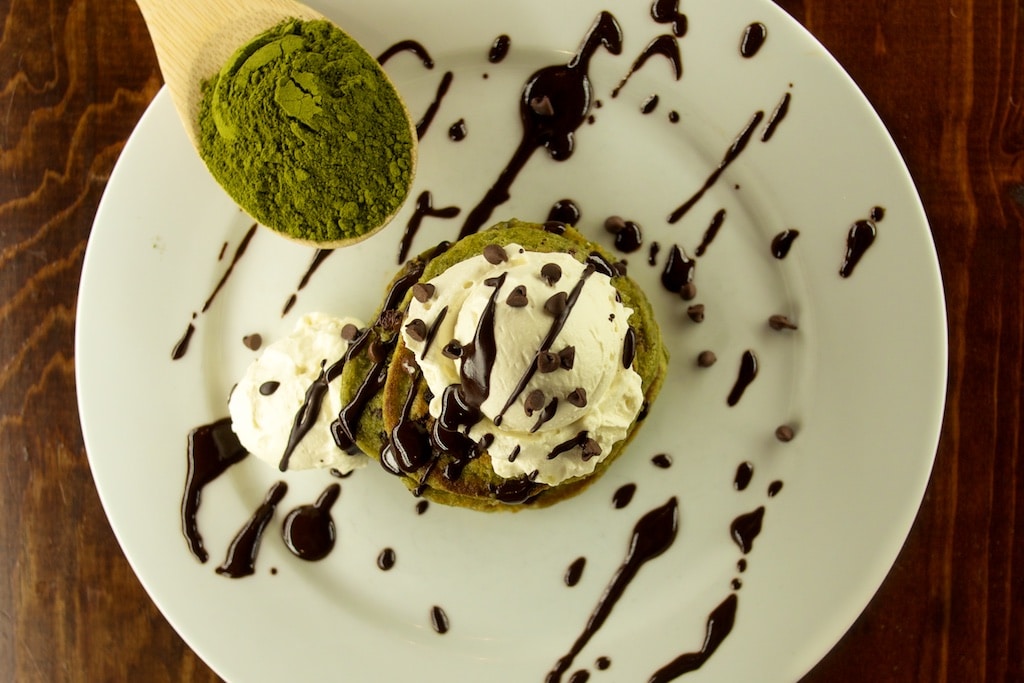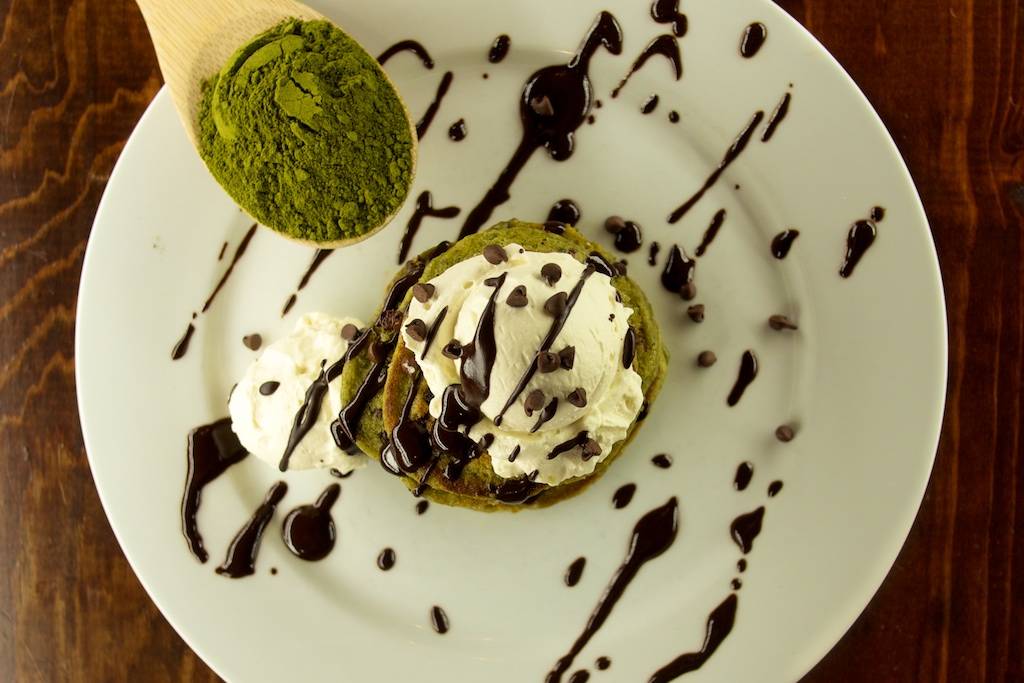 Mini Mint Moringa Chocolate Chip Pancakes with Healthy Chocolate Sauce
What better day to eat Moringa?!  Moringa's beautiful green color screams health and wellness; it also has an incredible knack for "magically" changing the base color of most dishes in which it is included.  A day that celebrates green, must surely include Moringa.
Mmm…Refreshing mint, powerful Moringa, and comforting chocolate cooked up into an amazing pancake.  Depending what Moringa /chocolate/sweetener ratio you choose, will determine if your meal classifies as breakfast or dessert.
Needless to say, Mini Mint Moringa Chocolate Chip Pancakes were quite the hit with our family.  Amazingly or not so amazingly, my most taste-particular child made special request to have these again!  I think, it is safe to say that in spite of serving these for dinner, our initial ratio must have teetered on the dessert side of meal categories.
We love mint and Moringa and chocolate!  While this is quite an amazing combination, in the future, for our family's standard preference, we will decrease the "internal" sweeteners and opt to balance out the "bite" of Moringa with the "fun" healthier chocolate sauce for drizzling or dousing .  The chocolate sauce contains raw cacao powder, raw cold-pressed coconut oil, and raw Moringa powder which all hold their own list of incredible benefits.  You can then sweeten to taste and enjoy.
I use a 2 TBSP cookie scoop to divide my pancake batter.  This recipe makes  12-15 pancake.
Are you Gluten-free?  Simply  substitute a TBSP of Moringa Powder  for the GF flour in your favorite pancake recipe…add in your mint flavoring and chocolate and "Voilà"….  a GF Mini Mint Morigna Chocolate Chip Pancake.
Try out our Mini Mint Moringa Chocolate Chip Pancakes, and let us know how you individualize them! We would love to hear from you!
Need Moringa? Check out the online store.
Inspired by The Idea Room.

10

Tbsp

whole wheat flour

9

Tbsp

all purpose flour

1

Tbsp

Moringa leaf powder

1

Tbsp

raw sugar

optional

1

tsp

baking powder

1/2

tsp

baking soda

1/2

tsp

salt

1

cup

kefir

substitute milk or buttermilk. adjust to desired consistency

1

large

egg

2

Tbsp

melted butter

substitute preferred oil

1/2

tsp

vanilla extract

can increase to 1 tsp

1/2

tsp

mint extract

1/2

cup

dark chocolate bits/chips

more or less to taste
In small mixing bowl, combine dry ingredients. (Flours and Moringa amounts can be adjusted per preference. Total amount should be 1 and 1/4 cup.)

In medium mixing bowl, whisk egg and buttermilk.

Add melted butter, vanilla and mint (Include sweetener here if using a liquid such as honey/maple syrup).

Gradually, blend wet and dry ingredients until no dry clumps remain. Do not over-mix. (This particular recipe is a sticky thick batter that will fluff up a more bread-like pancake.)

Stir in desired amount of chocolate. (Amount of Moringa, sweetener, and chocolate can be customized to preference.)

Heat cast iron pan on medium/low heat. Lightly oil pan. (Cooking over low hear prevents burning and allows time for pancakes to rise.)

Drop batter by 2 Tbsp(mini)/ or 1/4 cup onto hot pan.

Cook until bubbles appear and burst before flipping--about 2 minutes.

Continue until underside of pancake is golden brown. Remove and set-aside on serving dish. Continue until batter is gone.

Serve Warm. Eat plain or top with whatever you desire. For a more decadent dessert pancake see option below. Can also pair with homemade whipped cream or whipped coconut cream.
Optional Healthy Chocolate Sauce
Mix melted coconut oil, cacao powder, Moringa powder and desired amount of maple syrup (or sweetener of choice) for a healthy chocolate syrup. (Possible ratio : 2 Tbsp, 3 Tbsp, 1/2 tsp, 1-2 Tbsp).

Stir in equal parts vanilla extract and mint extract for some added minty chocolate flavor. (With the suggested ratio, this makes about 1/4 cup of a very rich sauce for drizzling.)