Ashwagandha Overview
---
Ashwagandha is a shrub that grows across India, through the Middle East, and into parts of Africa. The name "Ashwagandha" comes from the ancient Sanskrit language and literally means "horse smell". This name was given to Ashwagandha as it described the smell of the roots which have been used in traditional medicine for thousands of years.
Today Ashwagandha is being rediscovered by a much wider audience as it continues to gain publicity for its many health benefits.
The chart below shows how the research into Ashwagandha and its many benefits is "exploding"!
It's the reason why in 2018 Nutraceuticals World said Ashwagandha is "leading the adaptogenic revolution" and why in 2019 Nutra Ingredients ran an article entitled, "An herb to watch: Ashwagandha science growing consumer recognition".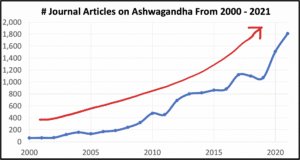 Ashwagandha capsules made from the roots are the easiest way to add Ashwagandha to your daily routine and reap the benefits. We are confident we carry the best organic Ashwagandha capsules but don't take our word for it. Try them out for yourself. We have a 30-day money-back guarantee
---
Ashwagandha Capsule Details:
Know all the details before you buy!
120x capsules per bottle
Approximately 500 mg capsules filled with 2 ingredients:

Organic Ashwagandha Root – 500mg (Withania somnifera)
Black Pepper Fruit Extract – 2.5mg (to help with adsorption)

The capsule size is size #0 for ease of swallowing (even my kids can swallow these capsules)
Vegan capsules are used
No fillers or flow agents are added! EVER!
The batch number and expiry date are clearly printed on the label of each bottle
Heavy metals tested and passes way below even California's ultra-low standards!
One bottle of Ashwagandha capsules will typically last 60 days if you take 2x capsules a day.
---
Ashwagandha Capsule Benefits
Supports stress and anxiety reduction: Ashwagandha is best known for its ability to reduce and help the body cope with stress*.
Supports brain health: Withaferin A, a powerful antioxidant in Ashwagandha, may support brain health, nerve, and memory function.*
Supports endurance and muscle growth:  The nutrient and antioxidant-rich ashwagandha root has been shown to increase endurance as well as muscle strength and size*.
Supports healthy sleep: Ashwagandha may promote the ability to fall asleep faster and increase the overall quality of sleep while providing a greater sense of alertness upon waking*.
Supports daily energy – Ashwagandha supports mitochondrial health and energy levels.*
*These statements have not been evaluated by the Food and Drug Administration. This product is not intended to diagnose, treat, cure or prevent any disease.
---
Ashwagandha Capsules Side Effects
Any information on A Healthy Leaf is given for informational purposes only. This information is not meant as medical advice or as a substitute for medical advice. This information shouldn't be used for diagnosing or treating any disease or health issue. That said, side effects of Ashwagandha include nausea, vomiting, or diarrhea. If you experience one of these rare side effects please stop using Ashwagandha. Also, please consult your healthcare provider before using if you have any thyroid or auto-immune issues, or if you are pregnant or breastfeeding.